Visiting Iran - Safety - Traveling as a Woman
You are thinking of going to Iran and your mom and friends call you "crazy"? Yeah, we have heard about that. But don't worry. Just make them refer to a reliable travel guide on Iran and they'll see how safe Iran is to travel and the number of tourists coming here has increased enormously over the last few years. Here is some information that should stop your friends and family from thinking visiting Iran is not safe. Also keep reading if you are interested in learning about women travelling in Iran and how to dress in this country.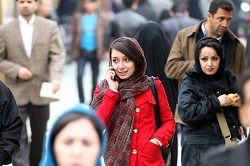 Is It Safe to Visit Iran?
Yes, it is! Not talking about
Iran's driving culture
, this country is generally
a safe place to travel
.
Crime rate
in Iran, especially in the big cities like
Tehran
,
Isfahan
,
Shiraz
, etc. is
very low
and we have not heard of any attacks on travelers. Most
Persians
are quite curious about travelers and they will try to talk to you about what brings you to their country. The political situation in Iran is quite stable and there are no inner conflicts that would affect the safety of the tourists. Therefore, most
cities and towns in Iran
are
safe
to travel to. But
stay away from the areas around Sistan and Baluchistan Province
. It
borders with Afghanistan
and so conflicts have been going on in this area for years, and tourists should not go there.
Visiting Iran as a Women
Travelling in Iran as a (single) woman is
not a problem
and it's very easy. As a
female solo traveler
, you'll easily get your
Iranian tourist visa
, take your
IKA airport taxi
, book any
hotel in Iran
you feel like, etc. As a matter of fact,
Iranian women
are quite active in their society. You see them in
Iran gardens
, in
Iran museums
, in offices, in schools, etc. they're almost
everywhere
. There are women-only wagons at
Tehran Metro
and other means of
public transport in Tehran
, and women are always
treated with respect and (sexual) harassment is not an issue
. But be aware that female travelers definitely
attract more attention than males
. Because Iran doesn't see too many tourists, many people will be
curious
and look at you and
will try to talk to you
. They'll tell you about
historical places in Iran
and some will try to sell
Iran tours
to you. In case you feel uncomfortable,
clearly tell them to leave you alone
and they will. Furthermore, if you should ever encounter any problems, other Iranians will definitely try to help you.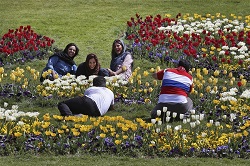 Dress Code for Women and Men
Iran is
a Muslim country
and people follow
a modest dress code in public
. When visiting Iran, you should consider the dress code. Women wear a
headscarf
, which these days they can wrap
rather loosely
. Sweaters and shirts need to be long enough to
cover the full length of arms
. Additionally,
women
need to wear a coat that is long enough to
cover their bums
. In the hot summer time you can wear
a light H&M/Zara-style cardigan
. But make sure you
button/zip up
. Pants need to
cover the ankles
.
Men can't wear shorts here either
, they need to wear
long pants
,
but T-Shirts are accepted for them
.
11/26/2017 8:10:23 AM