Shiraz
Shiraz is a name clothed in mystical aura that conjures up images as diverse as its legendary Shirazi wine (believed to be the magical potion of the ancient world), towering lines of poetry and gardens fragrant with the scent of orange blossoms. Shiraz is the the fifth largest city in Iran. Shiraz is best-loved among Iranians for its friendly people and cordial and soothing atmosphere. Shiraz is also one of people's main holiday destinations. Shiraz was known in the ancient Persia as a city linking Pasargadae to the capital Persepolis and as a result was pivotal for the Achaemenid dynasty. City of Shiraz is redolent of flowers and also gardens of poetry. According to a 2011 national poll, Shiraz has a population of 1.46 million. Most people in Shiraz speak their native Persian but the city is home for many other ethnicities including a significant Ghashghayi Turk population. The Persian which is spoken in Shiraz is slightly different in pronunciation and syntax from the Farsi spoken in Tehran. All tourists who take Iran tours and visit Shiraz go back home with hundreds of pictures posing opposite summer palaces with grandiose facades.
Shiraz Restaurants
The local cuisine of Shiraz is one of the best in Iran and as a result the city has a rich dining scene. Haft-Khan complex, near Shiraz's Koran Gate, includes both Persian and fast-food restaurants and also two coffee shops serving quality fresh beverages. Another popular restaurant in Shiraz is Sufi, a traditional eating place with a fascinating array of local dishes. Kebabs are inseparable parts of Iranian cuisine and Shiraz boasts some of the best Kabobs. No one leaves Shiraz without trying the famous Shiraz Shish Kabob which is served in most of the elegant restaurants around the city. If you try the delicious stews with great saffron-flavored brewed rice, be sure to order a bowl of amazing Shirazi salad with Shirazi sauce as a perfect complement to your meal. Most of the people visiting Iran become so obsessed with great Kebobs and stews that they completely forget about Iran's most famous national dish, Dizi. Hammameh Vakil (Vakil public bath) in Shiraz is a place where you can relax and have fantastic Dizi and hot bread while admiring the lofty vaults and delicate tile-work of old Iranian architecture.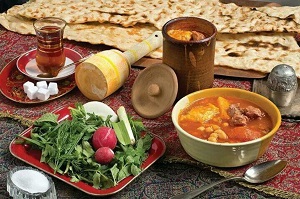 Shiraz Weather
The weather in Shiraz is generally warm with hot summers and mildly cold winters. But the best time of the year to travel to Shiraz is definitely early spring. In April and May, the first welcoming sign to the city is a whiff of orange blossoms the visitors catch before being inundated with the sight and scent of these divine trees. Moreover, Shiraz, as a city near the south of Iran, gets a fair share of the humid weather of coastal regions of the Persian Gulf. In consequence, the city attracts many tourists in winter who enjoy the weather of Shiraz which is exceptionally mellow in Iran. The mildness of Shiraz weather (temperature varying between 0-38 Celsius) makes it an ideal destination for most of the year.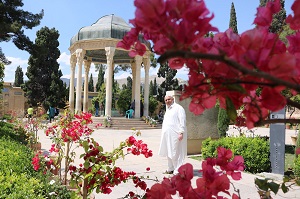 Shiraz Grapes
Shiraz has been documented in history as a city whose vineyards were legendary and some associate the origin of Shiraz grape (Syrah in French) with this ancient Iranian capital. Today Shiraz has maintained its former glory by producing some of the best grapes in Iran. Shiraz grapes are exported to the Arab states of the Persian Gulf and contribute significantly to the economy of the city.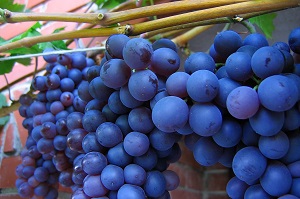 Shiraz Rugs
Handicrafts are inseparable features of Iranian culture and Shiraz as the cradle of one of the oldest civilizations in the world has prospered in producing handicrafts among which are traditional Shiraz carpets. Most of the rugs and carpets are produced in the villages around Shiraz or among the well-known nomadic tribes. Qashgayi and Bassari rugs (produced by the tribes of the same name) are the finest of their kind. Unique colors and geometric patterns of Shiraz wool rugs are the hallmarks of the delicate tribal artistry. Shiraz rugs are always for sale for a fair price in the city's old bazaar. Shiraz carpets have a price range of 300-5000 USD which is quite economical in comparison with the more luxurious Tabriz and Qom carpets. Carpets are also very popular among antique dealers whose trade of Shiraz rugs is hugely profitable.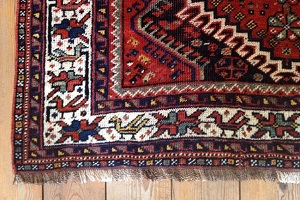 Shiraz Map
One look at Shiraz map reveals that the tourist attractions are scattered around the city. The grand Eram Garden and the Tomb of Hafiz are both located in the north-east of the city while the tomb of the other prominent Iranian poet, Saadi, is in the far east. Once in the city, you will find your way easily around as the people are very helpful and there are many tourist information centers that distribute free tourist maps of Shiraz. Or if you prefer to be completely on your own, you could easily get Shiraz map from the internet in PDF and other easily accessible formats.
Shiraz International Airport
Shiraz international airport, also known as Shahid Dastgheib International Airport is one of the busiest airports in Iran that has been serving as the largest airport of the south of the country for over fifty years. Shiraz airport arrivals and departures add up to 32000 per year. As well as regular daily internal flights (a flight to Shiraz is usually preferred given its distance from the northern cities), Shiraz airport has international flights to Dubai, Istanbul, Kuwait, Najaf, Doha, Baghdad, Masqat, Baku, Vienna, Antalya, Tbilisi, and Yerevan. Known by the airport code SYZ, Shiraz international airport transfers more than 30 million passengers annually. Many of the world's international flight agencies are active in SYZ airport including Qatar Airways, Turkish Airlines, Flydubi and Australian Airlines. Also, people in Shiraz who want to travel to London and other major European cities can easily book a flight and reach their destination via Istanbul or Doha.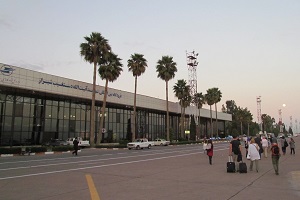 Shiraz Location and Time
Where is Shiraz? Shiraz is located in south-central Iran and is the largest and the most populated city in the region. A single time zone is observed all around Iran, so time in Shiraz is the same with the rest of Iran. So relax you won't need to adjust your watch from city to city. If you ask anyone the question: What time is it? You will get the same answer in Shiraz as in any other place in Iran. Moreover, you will need to remember Shiraz area code (071) for telephone calls.
Shiraz Metro
As one of Iran's most populated and touristic cities, Shiraz is equipped with one of the most efficient sets of transportation in Iran. Beside various bus lines and taxi services, Shiraz subway, whose first line was officially opened in 2014, is the ultimate choice for travelling around Shiraz. Shiraz metro map includes three lines, linking key spots in the city. Currently only the first line is functional but the construction of the remaining three lines will soon be over and moving around this gem of southern Iran will be even more convenient.
Shiraz Tourist Attractions
Gardens with names and appearance both redolent of Garden of Eden, ancient palaces in ruins still frowning at the folly of Alexander, consecrated shrines of the pious and the abode of the greatest poet in the world…
Too much grandeur for a city you might say, but you will find all these plus many more in Shiraz, city of wine and poesy. Shiraz tourist attractions are mainly grouped into five categories: Shiraz natural sights, public parks and gardens, sites of cultural heritage, museums and galleries. Let us get started on our tour in Shiraz for we have a lot to cover!
Eram Garden
According to The Holy Koran, once lived a man with an insatiable thirst for power who announced himself a deity and to prove himself worthy of such a claim built a garden carpeted with pearls and rubies with golden palaces and silver trees brimming with flowers gathered from all over the world. His name was Shaddad and he built the garden in the city of Iram to challenge the heavens and the Garden of Eden created by the Almighty. People who built Eram Garden weren't defying God but spared no effort to create a heavenly spectacle on earth. Here we present some important facts about Eram Garden. The garden and its palatial buildings were first built more than eight centuries ago and were later renovated and restored in the following ages. Eram Garden has a unique plan; a beautiful palace surrounded by a huge garden decorated with a wide range of plants and flowers from all over the globe.
A walk in Eram Garden is like wandering through the galleries of a magic perfumery.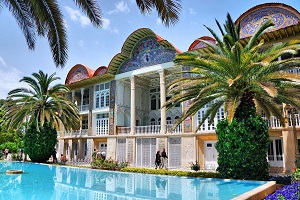 Shah Cheragh
Near the city center of Shiraz, one is welcomed with a mighty sight of a shrine. This is the tomb and the eponymous mosque of Shah Cheragh who was the older brother of Imam Ridha, one of the infallibles in Shiite Islam. This place is considered a consecrated ground and is visited annually by millions of pilgrims who visit the shrine and say their prayers in Shah Cheragh mosque. The interior of the shrine is decorated with mirror-work designs and breathtaking works of Iranian calligraphy which have inscribed eternity on the tiled walls and murals of Shahe Cheragh with ineffable finesse.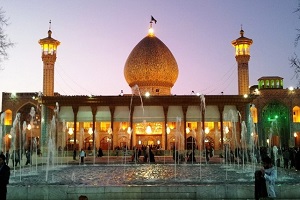 Nasir ol Molk Mosque
The peak of Iranian art is reflected in the prodigious domes and minarets of grand mosques and Shiraz boasts one of the defining examples of this fabulous art. Nasir ol Molk Mosque is a century-old masterpiece near the golden dome of Shahe Cheragh. Nasir al-Mulk Mosque has a truly magnificent plan. Visitors to Shiraz have had some of their most memorable moments lost in the exquisite colors of windows and their equally phenomenal reflections on the hand-woven carpets and elegantly decorated arches. The courtyard of Nasir al-Mulk Mosque is also exceptionally artistic facing the exterior of the mosque with its elaborate design and a stone fountain pool.
Vakil Mosque
Another mosque which is culturally and historically revered in Shiraz is Vakil Mosque in the vicinity of famous Vakil Bazaar. These homonymous structures are both the work of Zandieh period; a period of the flourishing of art and prosperity for Iranians. Vakil Mosque instantly grabs the attention of the visitors by its colossal pillars, delicate tileworks and an exquisite one-piece marble pulpit. I have no end for this so I prefer to conclude by quoting the French novelist Pierre Loti who upon visiting Vakil Mosque sighed: "Here we are, in this palace of lapis and turquoise".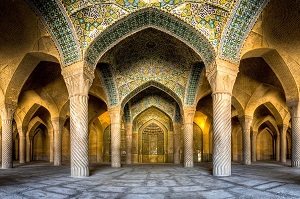 Tomb of Hafez
Even After All this time The Sun never says to the Earth, "You owe me." Look What happens with a love like that, it lights the whole sky.
One who composed the lines above (the original is even more sublime as in any piece of poesy) is the most imperishable name in Iranian literature. Hafiz bewitches anyone who sets eyes on his poetry, be it a literature enthusiast or a great thinker like Goethe who was so moved by his eminence that composed his West–Eastern Diwan as a tribute to Hafiz. It is common knowledge that two books exist in every household in Iran. One is Koran and the other one is Divane Hafiz (Hafiz's complete works). As a result, the tomb Hafiz of Shiraz is considered a shrine for Iranians and any seeker of truth. People recite his poems and take shelter from the scourge of the mundane world under the celestial vault of his tomb.
Tomb of Saadi
The best loved by God are those that are rich, yet have the humility of the poor, and those that are poor and have the magnanimity of the rich.
Bustan and Gulistan (The Orchard and The Rose Garden), Saadi's two magnum opuses, are far more than books of poetry. They are wells of wisdom shining eternally with the light of Saadi's eloquence. Some of the best-loved of Saadi's poems and quotes embellish the interior of his tomb. The mausoleum containing the tomb is an octangular modern structure inspired by old Iranian architecture. Among many remarkable set pieces used in the body of the mausoleum is a subterranean canal that flows into a fish pool. People make a wish and toss a coin into the pool asking the spirit of Saadi to act as a mediator between them and the Almighty.
Afif-Abad Garden
Among many Gardens around Shiraz, there is one that has guns as well as flowers! Afif-Abad Garden which is in possession of Iran National Army, is home to one of the most precious arms museums in the Middle-East. The museum includes items from the private collection of Iranian monarchs of Qajar and Pahlavi dynasties. In addition, the Garden presents a prime instance of Iranian floriculture. There is also an old palace with exceptionally fine interior design in Afif-Abad Garden as well as an old coffee place decorated with frescoes depicting epic tales from Ferdowsi's Shahnameh.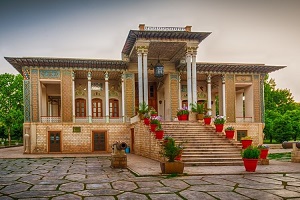 Pars Museum
The oldest museum in Shiraz is located predictably in a garden. Pars Museum holds a large collection of the pre-Islamic period of Iranian history. The garden and the majestic building was built during the reign of Karim Khan Zand as an official place for receiving illustrious royal guests. It also serves as his burial site. The museum also includes a majestic collection of paintings and vintage embellished Korans some up to 800 years old. Also, the famous Haft-Man Koran which was formerly situated in Koran Gate is preserved in Pars Museum.
Arg of Karim Khan
Karim Khan Zand, the founder of Zand dynasty summoned artists from all over the empire to the new capital, Shiraz, to work on a series of buildings and gardens. Among many historic edifices and gardens constructed in this era, Arge Karim Khan (Citadel of Karim Khan) is maybe the most prominent one as it was simultaneously the city's citadel and also the residence of the king. After the fall of Zand dynasty, it was turned into a prison but today after a decade of renovation it serves as a museum. The titanic pillars of Arg of Karim Khan have maintained their past glory and the edifice is considered the city's landmark.
Qavam House
You find ahead a palatial house facing a spectacular garden coated with a vibrant rainbow of flowers, tall date palm trees and also an orangery. This is the House of Qavam, an affluent merchant who built it and its adjacent garden about 150 years ago. The scent of orange blossoms in the garden have become so legendary that natives of Shiraz often call it Narenjestan (Garden of Orange Blossoms). Qavam House functioned as Shiraz university's faculty of Asian Studies before Islamic revolution but today it is under the auspices of Iran's Cultural Heritage Organization and hence a museum.
Vakil Bazaar
Monarchy, religion and commerce had been the three pillars of Iranian ancient history and their materialization namely palaces, mosques and grand bazaars are ubiquitous in Iran. Shiraz displays numerous instances of these among which Vakil Bazaar shines as one of the oldest grand bazaars in Iran. The symmetrical high arches and the mesmerizing spicy scent of Vakil Bazaar hypnotizes any visitor at first encounter. Moreover, the secret charm of antique shops with their coin and rosary collections and the vivid hues and elaborate patterns of rugs in Shiraz rug galleries further enriches the experience of Vakil Bazaar.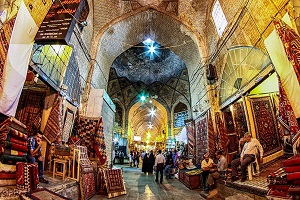 Qur'an Gate
It is an old Iranian custom that a traveler passes under a Koran before embarking on a journey. People who designed Shiraz's famous Qur'an Gate had this concept in mind when they built it in the exit of the city. A small room was added to the top of the gate where two Korans were placed; hence the name Qur'an Gate. For the reasons of preservation, the Korans were removed from the gate and now are in display at Pars Museum. Qur'an Gate is now part of a public park, but the visitors still feel protected and blessed in its presence.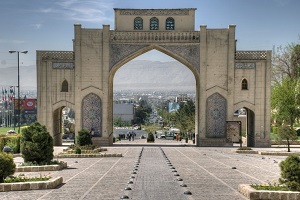 Vakil Bath
The reign of Karim Khan Zand was a period of great prosperity and flourishing in Iran. The development was most conspicuous in the area of civic construction and planning. Many of these prominent buildings are in Shiraz, the capital city at the time. Among the three homonymous edifices built under the name of "Vakil", two (Vakil Bazaar and Vakil Mosque) were introduced above. The third, is a public bath built in 1760 as part of a complex that besides the mosque and the bazaar also included Arg of Karim Khan. The consummate use of hot water and steam to warm the bath and the unique structure of the entrance to preserve the heat hand in hand with the intricately designed dome of Vakil Bath makes it a genuine work of Iranian architecture of 18th century.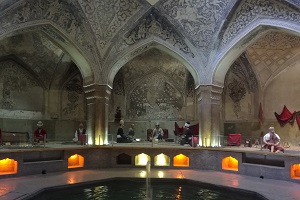 Delgosha Garden
Gardens replete with colorful roses and redolent of orange blossoms have been part of Shiraz local heritage since antiquity. Delgosha Garden is one of the earliest remnants of this passion in Fars province. This ancient garden was built during Sassanid era. Later, it was renovated many times specially during the Zand and Qajar periods. The imposing building in the middle of Delgosha Garden was built in the tradition of Sassanid palaces during Zand era. It is a three-floor palace fashioned with luscious mirror-works, decorative plaster molding and breathtaking frescoes. The front view of the palace presents a stone fountain pool surrounded by an abundance of citrus trees.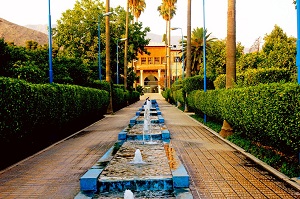 Luna Amusement Park
Luna Amusement Park in Shiraz, located near Qur'an Gate, is the largest amusement park in the city. People enjoy the refreshing cool weather of the mountains while letting their children join the lively atmosphere of the park with its modern recreational facilities including super bumper cars, roller coasters, carousels and etc. There is also plenty of scary stuff (Ranger, Horror Tunnel Ride, Raging Bull and a very high slide!) for the adults who ache for a dose of adrenaline.
Khwaju Kermani Tomb
There is no dearth of great poets in Shiraz. Some of these names are usually overshadowed by the inimitable literary prowess of Hafiz and Saadi. However, time has secured the poets' positions in the infinite trove of Iranian literature. Khwaju Kermani composed poems in a wide range of poetic styles. Iranians know many of his verses by heart and regard him as a great poet. That is why his tomb in Shiraz is a very popular spot. Khwaju Kermani Tomb is located at a foothill facing Qur'an Gate. The famous spring of Rokn Abaad (a favorite of Iranian poets) streams nearby and there are also three caves at the top of the grave wherein Khwaju had lived for a time.
Haft Tanan Museum
Haft Tanan Garden, one of the oldest historic sites in Shiraz, is located in the north of Hafiz Tomb. Haft Tanan (literally seven people) refers to the seven mystics who were buried in here. As is typical of Iranian gardens, there is a big mansion in the middle of the beautiful garden. This great edifice is one of the many architectural masterpieces of Zand era and contains decorative plaster moldings and fascinating frescoes recounting some mythological and biblical tales. Furthermore, Haft Tanan Museum is home to the biggest collection of ancient statues and carved stones in Shiraz, covering a span of about 2000 years.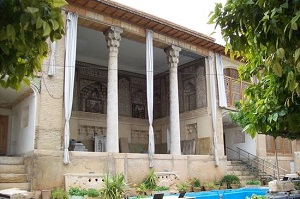 Persepolis
Behold how they toss their torches on high,
How they point to the Persian abodes
And glittering temples of their hostile gods.
The princes applaud with a furious joy:
And the king seized a flambeau with zeal to destroy;
Thais led the way
To light him to his prey,
And like another Helen, fired another Troy!
John Dryden
Alexander's Feast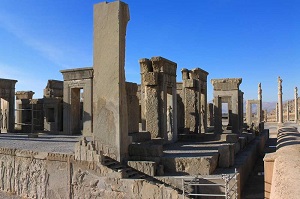 It is said that Alexander the Great rued the day he ordered the destruction of Persepolis when he stood at the site of the ruins, remembering the former glory of the palaces. The exact cause of the decision to loot Persepolis during Greek occupation of Iran is a place of great controversy between historians. Some believe it was the result of the instigation of Thais, Alexander's Athenian lover who begrudged the Persians for razing her city to the ground. Others refute this hypothesis by suggesting that it was an act of retribution for the atrocities committed by the Persians during their invasion of Greece. Whatever the cause, today we are certain that Persepolis (the capital of Iran and the most prosperous city in the world at the time according to Plutarch) was looted and set on fire by the Greek army under Alexander in 330 BCE. The remains of Persepolis are located 60km from Shiraz on a hillside. The entrance to the former glorious palace was through a huge stone staircase. Climbing up the stairs, one is welcomed by the famous carvings on stone depicting various scenes of royal life in Persia. On the terrace, one is confronted with 15 colossal pillars that supported the high vaults of the royal palace. Naghsh-e Rostam, the resting place of ancient Persian kings carved in a titanic rock, stands tall in the vicinity of the palace. One of the landmarks of Persepolis is a pair of prodigious stone guardian bulls at one of the entrances to The Gate of All Nations built under Xerxes the Great. In the heydays of Achaemenid rule in Persia, Apadana was the royal palace Darius I used for official visitors. It consisted of a huge hall of more than 60 meters in length supported with 72 mighty columns. The visitors often visualize the grandeur of Apadana by standing next to 13 of the extant columns. Other palaces include the Throne Hall, Tachara, The Council Hall, the Tryplion Hall and other smaller palaces built for a plethora of uses. I find myself utterly in awe writing about this once capital of the world. How can one do justice to the utter sublimity of this mighty spectacle. Maybe a more competent writer could meet the challenge. I opened this passage by an excerpt from Dryden's Alexander's feast. I will end it with another masterpiece of English literature that would serve as an epilogue to this piece; Shelley's Ozymandias that always reminds me of the lonely lamassus of the Gate of All Nations, still guarding the invisible grand palaces.
I met a traveler from an antique land
Who said: Two vast and trunkless legs of stone
Stand in the desert. Near them, on the sand,
Half sunk, a shattered visage lies, whose frown,
And wrinkled lip, and sneer of cold command,
Tell that its sculptor well those passions read,
Which yet survive, stamped on these lifeless things,
The hand that mocked them, and the heart that fed,
And on the pedestal these words appear:
"My name is Ozymandias, King of Kings:
Look upon my works, ye Mighty, and despair!"
Nothing beside remains. Round the decay
Of that colossal wreck, boundless and bare
The lone and level sands stretch far away.
Shiraz Hotels
In a city that includes some of the most visited spots in Iran, the least one expects is a wide range of accommodation to meet all tastes and budgets and Shiraz doesn't disappoint anyone looking for quality lodgings. Hotels in Shiraz vary according to their location and level of luxury. There are five-stars fancy hotels like Chamran Grand Hotel, Homa Hotel, Setaregan Hotel and Shiraz Hotel as well as more modest four stars hotels like Elysee, Aryo Barzan and Parsian Hotel in Shiraz. Moreover, dozens of guest-houses, villas and well-kept hostels in Shiraz provide superb service for an unbelievable price. In short, pack your bags, your shelter is ready in Shiraz!
Homa Hotel Shiraz
Homa Hotel is one of the oldest five-star hotels in Iran. 212 rooms and 22 suites of this eight-floor hotel open to a panoramic view of the city and its amazing gardens. Another unique aspect of Homa Hotel is its amazing open-air restaurant and spacious coffeeshop that provides service 24h a day. In addition to the open-air restaurant which is understandably out of service in cold seasons, there is a large luxurious restaurant on the ground floor serving topnotch local and international dishes. Homa hotel in Shiraz provides rooms in a price range of 80-180 USD.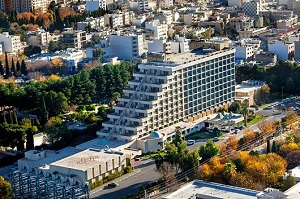 Chamran Hotel Shiraz
As it was mentioned before, two defining features of a quality accommodation are location and high standards of service. Chamran Hotel possesses both of these qualities. Located in Chamran Blvd, a top neighborhood in Shiraz, the imposing tower of Chamran Hotel bedazzles the visitors by its modern structure and superb façade. The hotel contains more than half a dozen restaurants and coffeeshops that provide the guests with a whole gamut of culinary choices. You can also watch one of the best views of the city through high windows of 25th floor. Other facilities of this fancy hotel include a well-equipped gym and swimming pool plus an outstanding traditional garden for having a walk and chatting while tasting a delicious cup of herbal tea.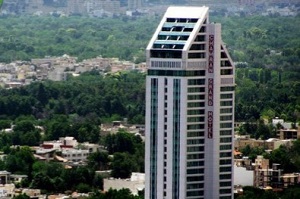 Shiraz Grand Hotel
Shiraz Grand Hotel is one of the most luxurious hotels in Iran. Constructed at the foot of the mountains in the north east of Shiraz, the hotel has a great view and a marvelous weather. As well as a modern sports complex and a coffeeshop, there are two restaurants in the hotel that serve wonderful Italian and Iranian cuisine. The revolving restaurant at the top floor of Shiraz Grand Hotel offers the guests to dine while enjoying a panoramic view of the city and its surrounding mountains.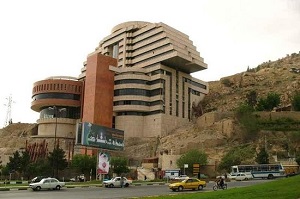 Zandiyeh Hotel
Another five-star hotel in Shiraz built in a great spot is Zandiyeh Hotel located near the massive walls of Arg of Karim Khan. The design of Zandiyeh Hotel is inspired by the Iranian architecture of Zandiyeh era specially in the decorative aspects of its phenomenal façade. An elegant restaurant and a spacious coffeeshop provide services 24h a day. Additionally, a traditional restaurant that serves great local dishes is placed in the fancy underground floor of the hotel.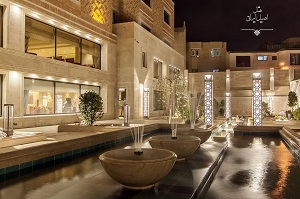 Karimkhan Hotel
Shiraz Karimkhan Hotel is a three-star hotel with high standard facilities and service located in a great spot for tourists near Arg of Karim Khan and within a walking distance of Vakil bath and bazaar. with a restaurant and a really nice traditional coffee house. You can also have a delicious bowl of Shiraz Faloodeh (icy noodles) in the coffee house of Karim Khan Hotel. You don't want to leave Shiraz without trying that!
Elysee Hotel Shiraz
Elysee Hotel offers everything you expect from a four-star hotel and much more! Great location, easy access and excellent service plus recreational facilities such as swimming pool, sauna, massage parlor and video games all make lodging in Elysee Hotel feel like a five-star hotel experience.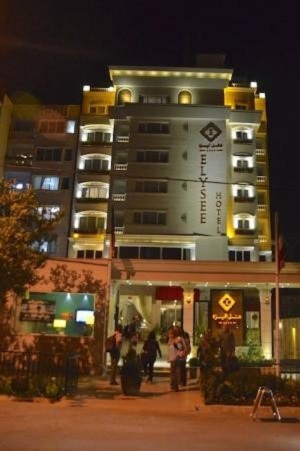 Aryo Barzan Hotel
With many years of full-fledged service, Aryo Barzan Hotel is proud to present its renovated high-class rooms and elite royal suites. People residing in this four-star hotel can enjoy indoor games like darts, pool and foosball. Other facilities include a large restaurant, a 24h coffeeshop, a conference room, luggage storage and dry cleaning. Finally, its amazing location which allows easy access to the city's tourist attractions makes Aryo Barzan Hotel immensely popular among the guests.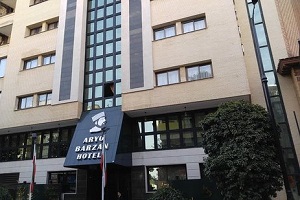 Setaregan Hotel
Setaregan Hotel is located in Azadi Boulevard near Azadi public park near the tomb of Hafiz and Eram Garden. The stylish rooms in this 4-star hotel feature LCD TVs, mini bars, direct dial phone, safe boxes, Wi-Fi Internet connection and above all a great view of the city. All rooms in Setaregan Hotel are equipped with double glazed windows that ensure a fast night sleep for its lucky guests.
Pars International Hotel
Pars International Hotel is above all location par excellence! It is built on Karim Khan Ave, which is the hottest spot in the city being in the vicinity of the historical district of Shiraz. Shiraz is no short of fancy hotels but Pars International Hotel might be one of the best. 188 rooms and luxurious suites of this massive five-star hotel have all the modern amenities expected from a fancy hotel including air-conditioning, double glazed windows, free Wi-Fi internet access, satellite TV and the friendliest staff. On top of that you will have many culinary choices as Pars International Hotel includes four exquisite restaurants and an amazing coffee shop that is open 24 hours a day. After a fabulous day in Shiraz nothing is better than relaxing in the superb sports complex of Pars International Hotel that includes a modern gym as well as spa, sauna, and a lovely swimming pool.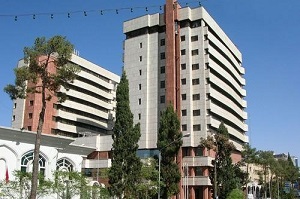 Eram Hotel
Eram Hotel is a fascinating three-star hotel with great location near Vakil Mosque and Shapuri Garden. It consists of 100 rooms, all of which are very neat and stylish and have private bathrooms, satellite TV, and safe boxes. Its great staff speak both English and Arabic and are very helpful. Other facilities include dry cleaners plus a restaurant and coffee shop.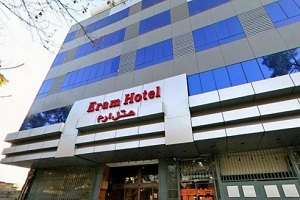 More Photos From the Delightful Shiraz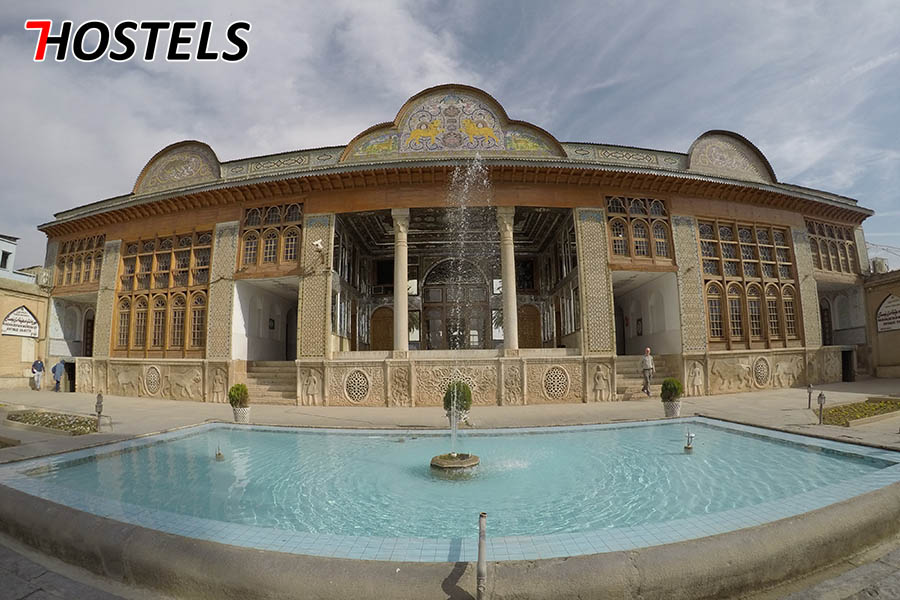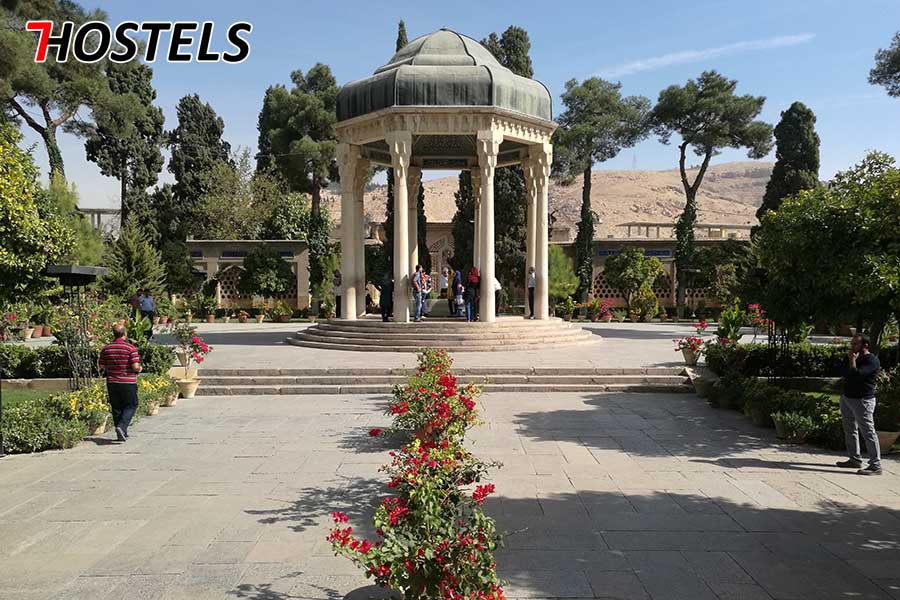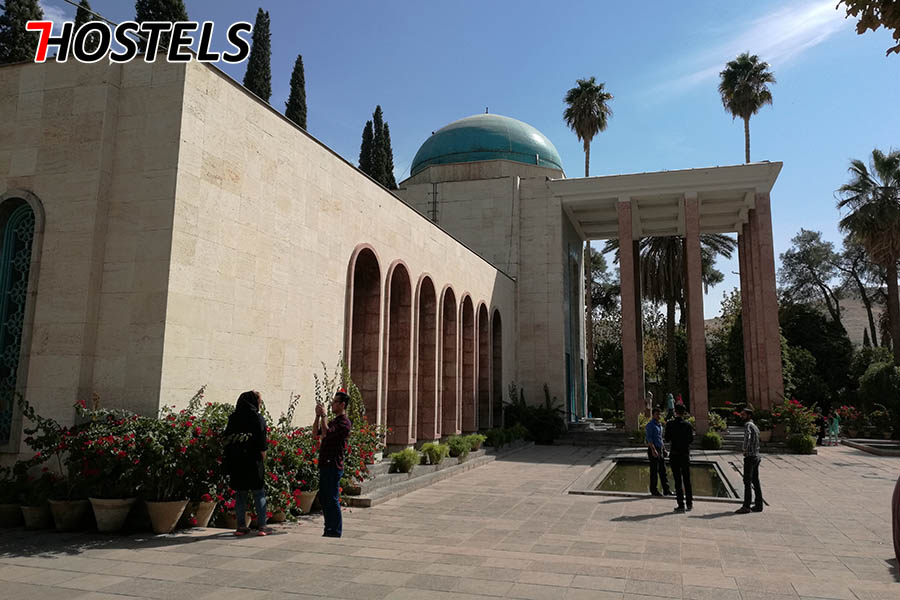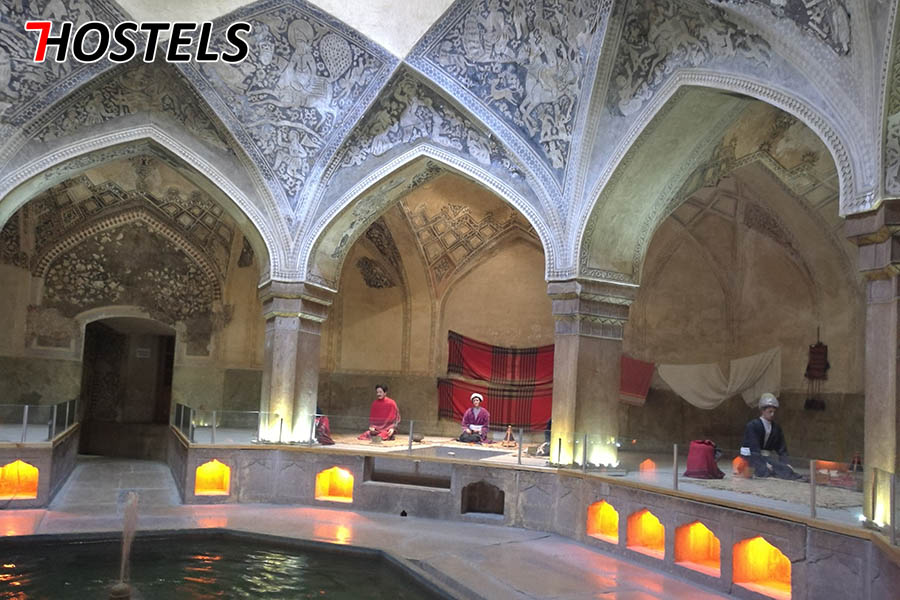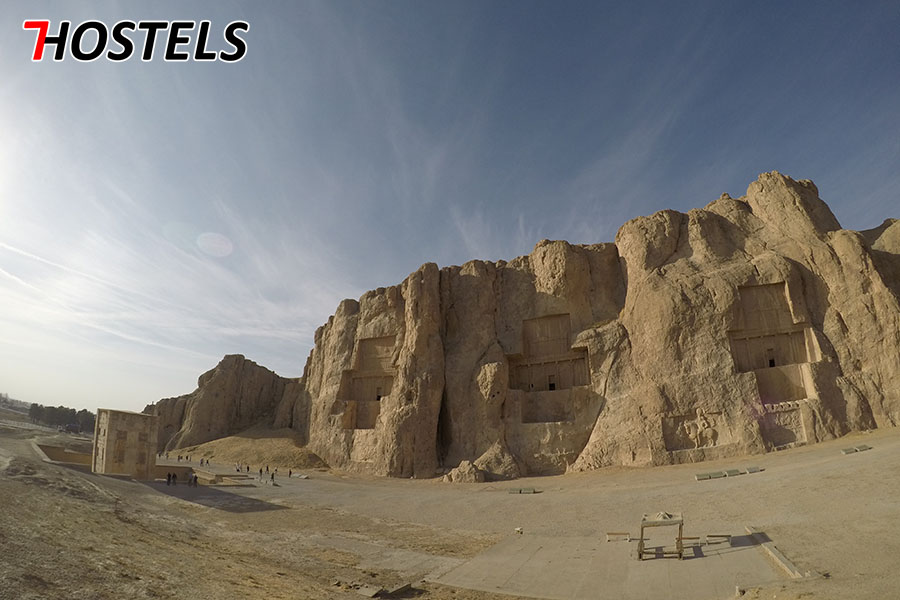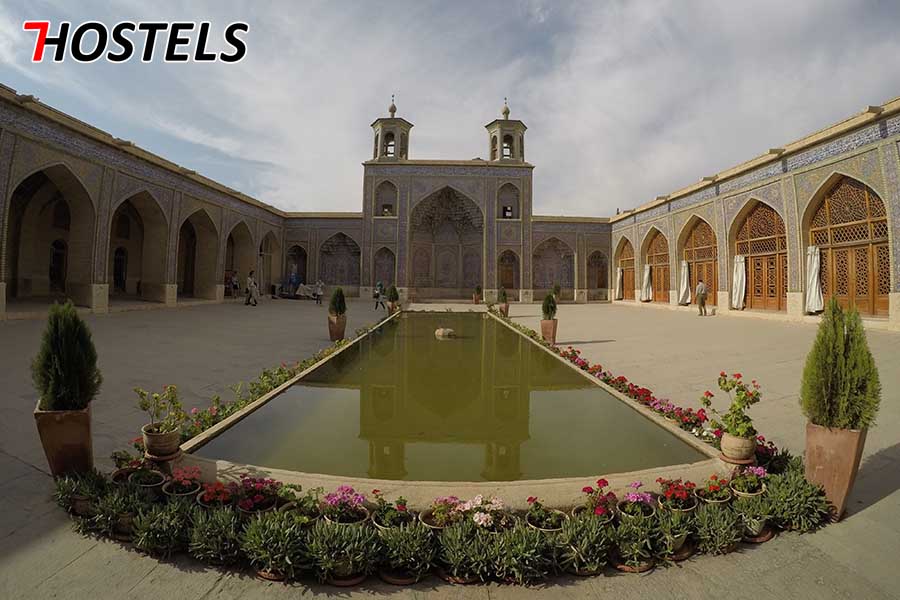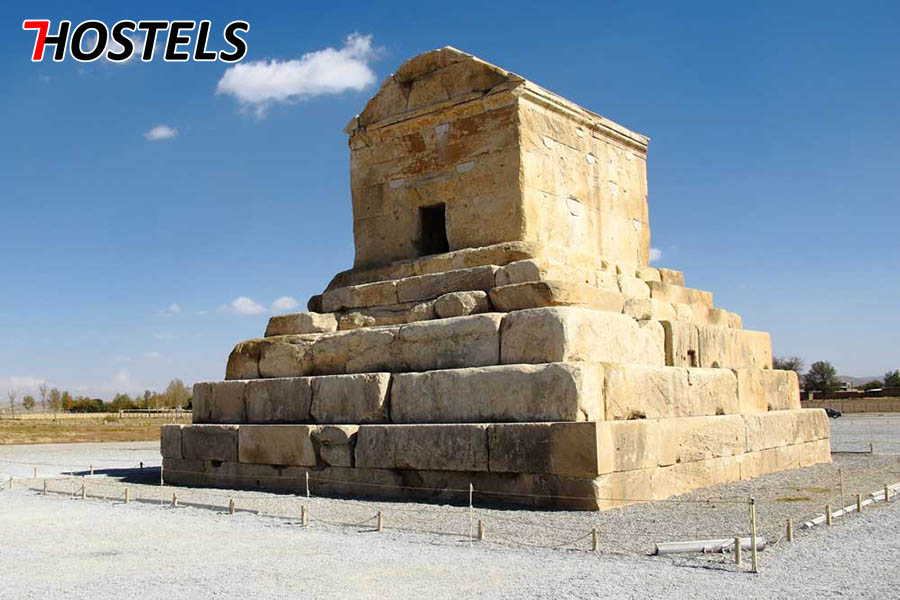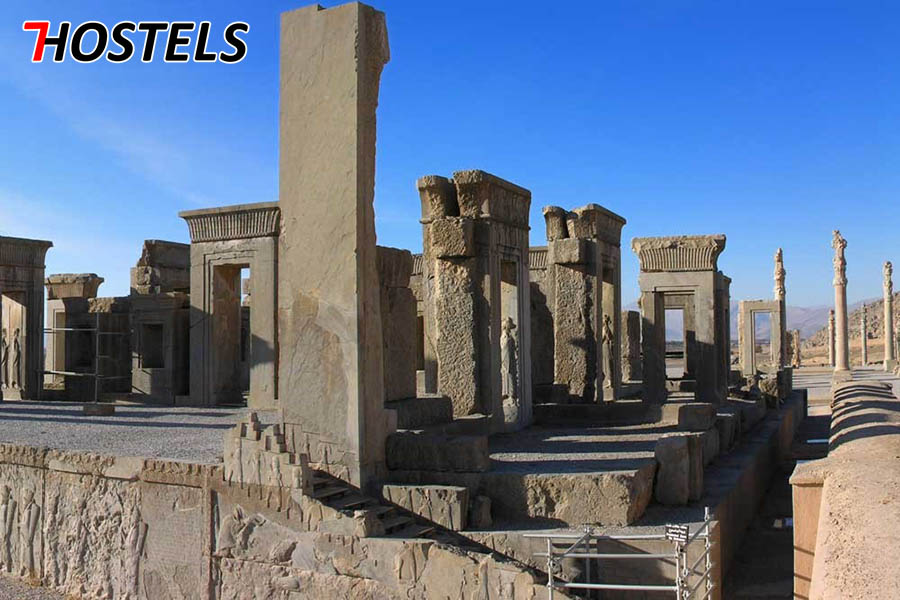 3/24/2018 2:47:22 PM