Driving in Iran
People in Iran Drive Crazy!
'
Crazy
' is probably the one word most tourists would use to describe the way
Iranian people
are
driving
in this country. To the foreign eye, it seems there are no traffic rules and streets are dominated by
anarchy
, where everyone just does what they feel like. Driving
in
Iran's cities
like
Tehran
or
Isfahan
, or
Shiraz
seems like
a suicidal adventure
, but outside the bigger cities it is fairly easy and much more relaxed. As opposed to some other Muslim countries,
Iranian women are allowed to drive cars
. In bigger cities such as Tehran or Shiraz you will also find
female taxi drivers
that take only female passengers.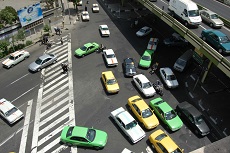 General Traffic Rules
All
roads have a speed limit
. Within the
city
it is usually
50 to 80 km/h
, for
highways
it is
120 km/h.
The government tries to enforce speed limits. Speed cameras are set up everywhere and
the majority of Iranians stick to the limit
.
Speed bumps
in the roads – some unmarked – also force drivers to slow down to some 15-20 km/h, otherwise they would wreck their cars. Cars in Iran
drive on the right side
of the road, and they are
supposed to overtake from the left
. But in practice they will
overtake wherever they find a gap
. Almost nobody sticks to just one lane and indicating before changing the lane happens rather barely. One should really
thank God
Tehran Subway
and
Tehran intra-city buses
are quite
efficient
, otherwise there would even more mad drivers in Iran's capital. All these said,
I have never seen any pedestrian getting hit by a car in this city!
The people and the cars somehow
go through each other
and know exactly when and where they should slow down or stop.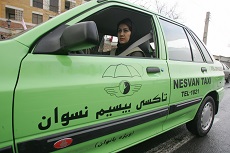 Car Rental and Driving in Iran
Car rental in Iran
is
unusual but possible
.
If you feel brave enough
to drive your own car, roads are generally in good condition and all bigger cities are connected by highways. Big
western car rental companies
have
pick-up stations
like at
Tehran International Airport
(IKIA) where you can pick up your car straight after arriving. Check online and make a reservation before arriving at the airport.
Some hotels in Tehran also have arrangements
with local rental places and can organize a car for you. But bear in mind that for driving in Iran you need an International Drivers' License from your home country.
Taking a Taxi in Iran
Aside from
the many taxis in cities that are like shared taxis
taking any passenger they find on their route, it's also quite common to hire a
private taxi
. You will need to
exactly
tell the driver
where you want to go and how much you'll pay for the trip
. Note that many taxi drivers will speak no or little English. Still, taking an
IKIA airport taxi
to Tehran_
IKIA is around 40 km out of the city
_will cost you
about 20 USD
, and going
from one side of Tehran to the other side
wont cost you more that
10 bucks
. Alternatively you can book organized
city tours in Iran
in advance. The
English-speaking tour guide
will drive you around, taking care of everything.




5/14/2018 9:57:45 AM