Yazd
Located 270 km southeast of Isfahan, Yazd is the hottest major oasis city in Iran. There are two deserts lying to Yazd's north and south; Dasht-e Kavir desert is to its north and Dasht-e Loot is to its south. Despite its really cold winters, Yazd has blistering hot summers and temperatures of 40 C (104 F) are frequently experienced in the city. Nevertheless, the city's non-humid heat has resulted in a spectacular style of architecture in Yazd that cannot be found anywhere else in the world; there are beautiful wind catchers (badgirs) on most of the rooftops in Yazd especially on all the old houses. The large number of old houses in Yazd has made this city one of the oldest cities on earth.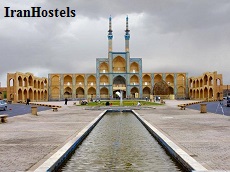 Yazd; Wind Catchers
A unique element of Persian architecture, Yazd's wind catchers symbolize the ancient Persians' deserved fame for their advanced sense of architecture. These wind catchers act as a natural system of ventilation to reduce the heat in adobe houses. They catch the slightest current of breeze passing above the house and lead it through the wind catcher's shaft to the interior of the house causing the house to cool down. There are several variations of this genius structure and the best form makes the airflow pass over a water reservoir in the house causing the house cool down in a very perceptible way.
Yazd's History
The word Yazd has been derived from the name of Sassanid king Yazdegerd I. Its earliest forms of civilization date back to more than 5000 years ago. Before the invasion of Arabs in 651 AD, the city was an important center of Zoroastrianism and after the fall of Sassanid Empire many Zoroastrians migrated to and took refuge in Yazd and managed to maintain and practice their faith by paying tax to the Muslim rulers. Later on, Islam gradually became the dominant religion of the city and ancient Zoroastrian fire temples were mostly replaced by magnificent mosques. Still, there is one very popular fire temple in Yazd called Yazd Atash Behram whose fire has been burning since 470 AD.
The not easily accessible location of the city kept the city safe from the vicious blades of Mongol invaders and in fact the city was like a refuge to the war-stricken people from the neighboring cities. It was in 1272 AD that Marco Polo visited Yazd and praised its silk industry and described the city as a noble city of commerce. As like many other Persian cities, the growth of the city was checked after the fall of the Safavid Dynasty and the rise of the Qajar kings. Modern Yazd is famous for its exquisite textile industry, its carpets and also for its deservedly famous sweets.
Hotels in Yazd
Sometimes it happens that tourists face problems finding available hotel rooms in Isfahan or Shiraz, but it's not probable at all to face such a problems in Yazd. There are many hotels in Yazd. As a matter of fact, people in this city were among the first ones who got the idea of renovating historic houses and using them as accommodation facilities. Still, the foreign tourists who are good at planning their trips are advised to book their desired hotels in Yazd in advance and explore this beautiful city without any concerns.
Book a Hotel in Yazd

8/22/2017 7:52:45 PM
---
1 Comment(s)
Average Rating:
Comments and Reviews
Commandeur on 5/13/2017
Hallo, Is it possible to make a reservation for two nights? We prefer one room with shared bathroom. From 15/05 until 17/05 with 18/05 in option? With kindly regards, Cor&Gerda Commandeur.
---
Admin:
Thank You
Dear Mr. Cor
Comment Code: 2048
Salam!
Thank you very much for contacting us.

Please make reservation on the website and we will check the availability and get back to you .

Kind Regards