Tabriz
Where is Tabriz? This gem of Eastern Azerbaijan is located in a valley surrounded by red mountain ranges. Tabriz is the largest and most populated city and the industrial heart of western Iran. Tabrizians are known as hardworking people whose seriousness is tempered by their undying devotion for their families and a love of their city. Tabriz is also known in Iran as the city of pioneers, having introduced many firsts into the political and cultural scene of the country. Most of the people in Tabriz speak in native Azeri Turkish and the majority of Tabriz residents maintain close cultural ties with the neighboring countries.
Tabriz Weather
Iran is a country with different climates and among these Tabriz has a multifaceted weather. Weather of Tabriz has all the characteristics of four seasons. Tabriz is known for its harsh and snowy weather in winters and cool and rainy springs carpeted with a myriad of flowers that last until the end of its mild summers. Weather in Tabriz is one of the main tourist attractions of the city enticing many people from all around the world annually with its snowy mountain peaks and green valleys.
Tabriz Metro
Tabriz is unique among Iranian cities in its diverse means of transportation among which are various taxi services, speed buses (BRT) and above all the soon- to- be operational Tabriz metro lines are worth mentioning. Tabriz metro map covers the whole city linking the south (El Goli Station and Ostad Shahriar Station) to the central and northern parts (Meydan-e Sa'at Station). There is also a long distance commuter line (Tabriz-Sahand Line) which connects Tabriz metro lines to Sahand subway station. Tabriz metro lines are still under the final phases of construction and they are expected to be officially opened within a year.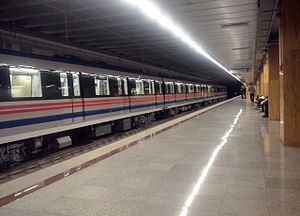 Tabriz Map
As it is seen from Tabriz Google map, the city comprises many districts each special and unique in its historical and cultural status. One look at the map of Tabriz reveals the great variety of the places: from the labyrinthine halls of the Grand Bazaar steeped in history and tradition to the dense green scenery of El Goli Luna Park, from old neighborhoods and their narrow brick alleys in Maghsudiye and Shariati to modern houses and grand villas of Valiasr and El Goli.
Tabriz International Airport
Tabriz international airport as one of the oldest international airports in Iran has been serving as the main airport of Tabriz for more than sixty-five years. Tabriz airport departures include international flights to Germany, Turkey, Iraq, Saudi Arabia, Azerbaijan, Georgia and Armenia. In addition to international flights, Tabriz airport has regular internal flights to Iranian cities including daily flights to Tehran, Mashhad, Isfahan, Shiraz and Kish. Known by the airport code TBZ, Tabriz international airport transfers more than 1.5 million passengers per year. Among the renowned international flight agencies active in Tabriz International airport are Turkish Airlines and Flydubi.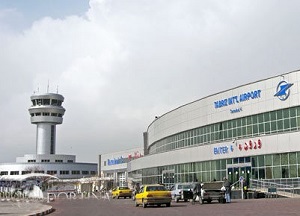 Tabriz Tourist Attractions
Tabriz is known for its diversity of tourist attractions divided mainly into three separate categories: Natural sights and public parks, historical buildings, monuments and museums, and commercial centers. Tourists visiting Tabriz will experience these attractions alongside with the incredible hospitality of Tabrizians who always welcome new faces and are excited to know people from other cultures. Indeed this warmness is the secret ingredient that adds flavor to the impeccable finesse of the historical monuments and natural beauty of Tabriz sights. Moreover there are tourist information centers that distribute brochures of Tabriz tourist attractions and offer their service to the guests.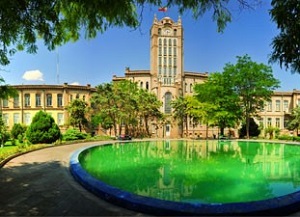 Laleh Park
Laleh Park is the most modern shopping center in Tabriz. Laleh Park encompasses a vast area of shopping space that includes almost all competitive commercial businesses from clothes and household facilities to airline and real estate services. In addition to the amazing shopping centers, Laleh Park also includes some of the best restaurants and coffee shops in Tabriz that offer their services until midnight and thus contribute immensely to the nightlife of the city. The colorful food court at the top floor of the complex offers tasty Iranian dishes together with the international cuisine. Laleh Park entertainment center adds another hue to this already mesmerizing complex.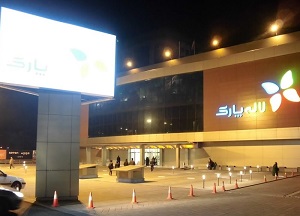 Blue Mosque in Tabriz
Tabriz is one of the many places in Iran where people of different religions have been living together in harmony of amicable citizenship for centuries. Tabriz claims one of the greatest population of Christians in Iran alongside Isfahan and Urmia. As a result, many old and beautifully built churches and Armenian schools are found in Tabriz. Islamic architecture also plays a defining role among religious buildings in Tabriz by creating the epitome of the combination of Islamic worldview and Iranian craft in the great vault of Tabriz Blue Mosque. Sometimes called the ruby of the Islamic world, Blue Mosque (more than 800 years old) carries the remnants from centuries of conflicts and wars on its heavenly colored vaults.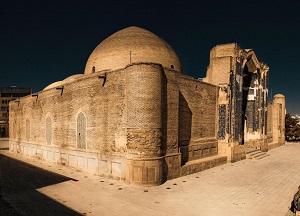 Tabriz Bazaar
The Bazaar of Tabriz is the largest covered bazaar in the world. One look at the map of the Bazaar reveals a plethora of serpentine alleys woven together by the incomparable genius of Iranian architecture into an enormous edifice encompassing one square kilometer of historic shops. Every ilk and profession owns its own unique alley in the Bazaar of Tabriz. These include the palatial sub-bazaar of Mozzafarieh specialized in selling exquisite hand-woven silk carpets and rugs. Due to its cultural and historic significance, the grand Bazaar of Tabriz has been recognized as a World Heritage Site by UNESCO.
Amir Nezam House
Equally fascinating historical sites are a number of historical houses that once were the residence of princes, governors and cultural figures. These include the elegant Behnam House which houses the School of Architecture of Tabriz Art University located in Maqsudieh street and Amir Nezam House in one of the oldest districts of Tabriz known as Sheshgelan. Amir Nezam House also known as The Qajar Museum of Tabriz preserves one of the biggest collections of Qajar dynasty in Iran. The collection in Amir Nezam House includes manuscripts, arms, coins and a number of historic photographs.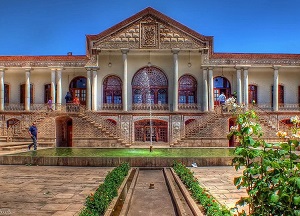 Arg of Tabriz
Ferdosi street which is popular among tourists for its variety of cheap hotels opens to a sublime historic edifice known as the Arg of Tabriz. The fame of this formidable structure with its façade of red bricks has stood the test of time. The titanic pillars of the Arg of Tabriz have endured a number of catastrophic earthquakes and the mighty blows of the Russian canons during Russo-Persian Wars. A public park is being built in Tabriz in the vicinity of the Arg by Tabriz municipality. Cultural Heritage, Handicrafts and Tourism Organization of Iran has started a renewal project in the Arg of Tabriz which is due to be completed in 2018.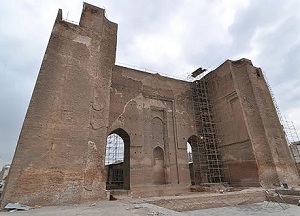 Eynali
As mentioned earlier, Tabriz is surrounded by mountain ranges and many of these mountains are spots for sports and entertainment. One of these mountains is Eynali. Located in the north east of Tabriz, Eynali is revered as a holy place. A number of Zoroastrian temples, churches, mosques and tombs have been built on top of it in different eras. But today the only extant structure is a mausoleum of two saints at the top of Eynali peak. Eynali is a popular weekend spot for the people of Tabriz where they enjoy the mountain and its entertainment facilities such as cafes and cable cars.
Golestan National Park
Golestan national park is the first public park in Tabriz and one of the oldest in the country. Many Tabrizians view Golestan park with a tinge of nostalgia, for once it was the sole place in the city that brought them happiness amidst the dark days of war. Golestan park with its century-old pool and old and tall trees has witnessed dozens of generations who have grown up in its cozy little playground and old happy amusement park. A look at Golestan park's map will also show us a gallery that displays artwork from local artists and a memorandum for the great Tabrizian mystic, Shams.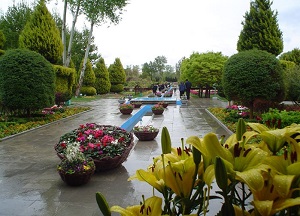 Azerbaijan Museum
Azerbaijan museum is the most important archeological museum in the northwest of Iran. The Museum's collection of archeological remnants of different periods of Iranian history is only second to that of National Museum of Iran in Tehran. Moreover, Azerbaijan museum contains a library packed with historical manuscripts as well as a unique collection of modern Iranian sculpture. There are also remnants from the Iron Age preserved in superb conditions that transport the viewers to the prehistoric times. Azerbaijan museum opens to a yard decorated with centuries-old statues and sculptures sitting calmly fixing their eternal gaze at the face of the visitors.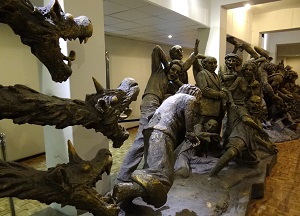 Constitution House of Tabriz
Tabriz has always been the center of political upheavals in Iran and its significant role in Iranian modern history is undeniable. One such political movement was the Constitution Movement that emerged in Tabriz with such heroic figures as Sattar Khan and Bagher Khan. The Constitution House of Tabriz was the gathering place of the revolutionaries during those dire times of conflict. Today the Constitution House serves as a museum of the Constitution Movement and many of the belongings of the revolutionaries including weapons, personal belongings, letters, manuscripts and photographs are at display.
Bagh Lar Baghi Park
Bagh Lar Baghi Park(literally garden of gardens) is one of the three major public parks in tabriz(the others being El Goli and Golestan National Park). Bagh Lar Baghi is the largest amusement park in Tabriz that offers a wide range of recreational activities including flat rides, rollercoasters, playgrounds, 4D cinemas, etc. Bagh Lar Baghi also invites people to get a taste of the wild with its big zoo where animals and birds from five continents are gathered. Bagh Lar Baghi is especially popular among children who cannot wait to roam the amusement park and get a glimpse of the African lions and Amazonian parrots.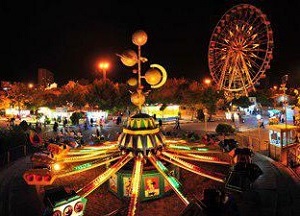 Khaqani Park
Khaqani Park is named after one of the greatest Iranian poets Khaqani Shirvani who lived in Azerbaijan and died in Tabriz. Located between two monumental spots for tourists (Azerbaijan Museum and the Blue Mosque), this miniature park is specially designed for people who want to escape from the city life and find a haven among the trees and wooden benches. They can also enjoy the amazing view of the Blue Mosque with its towering vault and majestic presence. There is also a grand statue of Khaqani Shirvani that welcomes the visitors to Tabriz Khaqani Park.
Elgoli Luna Park
Elgoli Park(originally El-Gölü, people's lake) is the biggest public park in Azerbaijan. Elgoli's earliest documentation in history goes back to centuries ago and it was purportedly used as a water source for agriculture. Elgoli's lake was later renovated and a palace was built in the middle of it. Trees and staircases were added to make this park the most popular place for the people of Tabriz. People come to Elgoli(the natives often call it Shah Goli) to jog or have a family picnic. Elgoli Luna Park includes an amusement park and many restaurants that serve quality food. A walk around the grand lake of Elgoli Luna Park under the starry sky of Tabriz is a night to remember.
Tabriz Handicrafts
Iran is a country famous for its handicrafts and Tabriz is one of the main centers of Iranian handicrafts. Craftsmen of different ilk each have their own market in Tabriz Grand Bazaar. These include the great jewelry Bazaar known as Amir Bazaar (the biggest jewelry bazaar in the country), Tabriz leather bazaar famous for its precious leather bags, the great shoe market which is the center of hand-made leather shoes and last but not the least the great bazaar of handwoven rugs and carpets.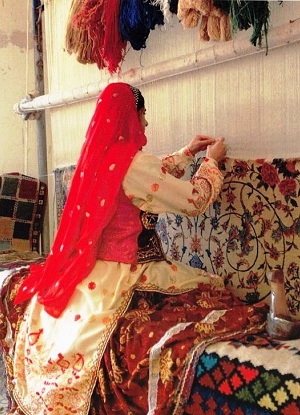 Tabriz Rug and Carpet
Tabriz is the capital for the production of the world-famous Iranian rugs and carpets. The sub-bazaar of Mozaffarieh in Tabriz Grand Bazaar and countless other shops and centers invite customers from all over the world to be bedazzled by the celestial and lustrous designs and velvety touch of Tabriz rugs. Tabriz handwoven rugs and carpets are very luxurious and indeed very expensive. Handwoven rugs in Tabriz carpet Bazaar have a price range of 1000 up to hundreds of thousands of USD based on their design, color, material and specially the size of their knots. Tabriz rugs occupy a unique place in the oriental world. Tabriz antique silk rugs have always been a favorite of the monarchs and sheikhs around the globe.
Tabriz Celebrities
Shams Tabrizi
Tabriz has always been a land of great men and women in Iranian history. Among Tabriz celebrities, there are numerous instances of men of letter and great thinkers and leaders that had a significant influence upon the lives of the individuals and the whole course of history. One of these great men was Shams Tabrizi whose spiritual wealth bent the barriers of Rumi's thought. Shams was a great thinker and mystic who was born in Tabriz and through his travels gathered a lot of students around himself, the most celebrated of them all was Rumi, one of the greatest poets in the history of the world. Shams is described in many books that include some of his quotes and a number of poems are dedicated to him including Rumi's imperishable Divaane Shams.
Saeb-e Tabrizi
Next generations followed the path of Shams by producing some of the most dazzling names in Iranian literature. Saeb-e Tabrizi, the great poet of the 17th century was the rhymer par excellence in Indian Style of Persian poetry. Saib Tabrizi has composed more than 300000 poems in his lifetime and many poets and writers have used Saeb-e Tabrizi's poems and quotes in their work. Tabriz also contributes greatly to Iranian modern poetry by introducing such figures as Iraj Mirza, Shahriar and Parvin E'tesami.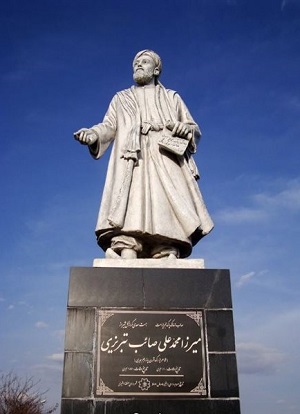 Iraj Mirza and Parvin Etesami
Iraj Mirza was born in Tabriz from a line of Qajar royalty. Iraj Mirza is a supreme master of Persian poetry and one of the pioneers of merging classical forms with modern content in Persian poetry. His audacious treat of themes like politics and sexuality earned him both fame and notoriety. Iranians remember Iraj Mirza with his heart rending poem, Mother. Tabriz is also the birthplace of one of the greatest Iranian female poets, Parvin Etesami. She uses a language akin to the humanistic feelings of Iranians and as a result her poetry is categorized within the realm of social literature. Many of Parvin Etesami's poems and quotes have been assimilated into the language of the common people.
Mohammad Hossein Behjat Tabrizi
Mohammad Hossein Behjat Tabrizi, better known with his pen name, Shahriar, is one of the best-loved poets among Iranians. Shahriar's oeuvre include poems on various topics, from beautifully versed love poetry to penetrating religious and political poems. Mohammad Hossein Shahriar's status is so elevated in Iran that his birthday is celebrated as the national day of Persian literature. Apart from being a household name in Persian literature, he is also revered in Iran and other countries as the master of Turkish language. "Heydar Baba Ye Salam" is Shahriar's tribute to his birth place and mother tongue and one of the most precious books of poems among Turks.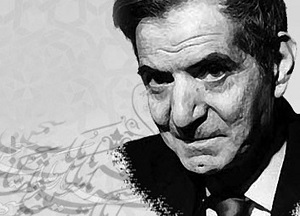 Tabriz Hotels
As one of the main destinations in the ancient route of Silk Road, Tabriz has always been visited by merchants and people from all over the world and as a result a great variety of hotels, hostels and guest houses have been established in Tabriz. Hospitable Tabrizians provide visitors and tourists with accommodation from VIP fancy five stars hotels to more economically reasonable four and three stars hotels. Backpackers and hitchhikers have got nothing to worry about either since in addition to hotels there are plenty of modest and cheap motels and guesthouses with excellent facilities that offer their services 24 hours a day for an unbelievably low price.
Book a Room at Tabriz Hotels
Kaya Laleh Park hotel
Kaya Laleh Park hotel is the most luxurious five-star hotel in Tabriz. Hotel Kaya's world-class services include several splendid restaurants serving excellent local and international dishes, a huge sports complex plus a pool, sauna, jacuzzi and Turkish bath. Kaya Laleh Park Hotel also offers a memorable sojourn for its guests with its grand suite. Furthermore, staying in Kaya Hotel you will enjoy Laleh Park complex, the adjacent shopping center plus having an easy access to Tabriz International Airport and fancy shops of Kuye Valiasr. Finally, you will have the most incredible view of Tabriz surrounded by its enormous red mountains.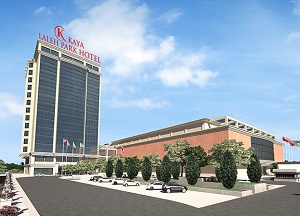 El Goli Pars Hotel
Another one of Tabriz five star hotels is Tabriz El Goli Pars Hotel. Located on a hill over the beautiful lake of El Goli Luna Park, El Goli Pars Hotel welcomes its guests with modern facilities, luxurious services and a revolving restaurant that renders a phenomenal panorama of Tabriz. One of the chief factors in choosing one's accommodation is the distance to the tourist spots. Tabriz International Hotel as the oldest international hotel in Tabriz is located near Abresan, one of the main intersections in the city. There are taxi and speed bus (BRT) stations right in front of Tabriz International Hotel and the distance to the city center is less than three kilometers.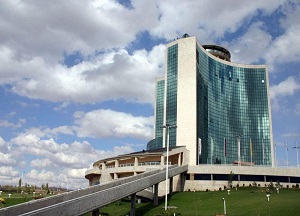 Morvarid Hotel
Among the more modest three star hotels in Tabriz Morvarid hotel is one of the most well-known and one of the oldest hotels in Tabriz. Located near Golestan Public Park, Morvarid Hotel is an easy walk to central parts of the city including the Grand Bazaar. For those looking for a cheap guesthouse or a motel with basic facilities there are many guesthouses in Ferdosi Street and Mohagheghi Street such as Darya Guesthouse and Masoud Guesthouse with simple single and double-bed clean rooms and kind staff who are of great help to their guests.
8/22/2017 7:55:50 PM