Shemshak
It is no secret that Shemshak is one of the most popular ski resorts in Iran. You will find Shemshak in most of Iran's tourist maps. Along with Dizin, Shemshak is crucial to Iran's winter tourism. One reason behind the immense popularity of these resorts is their proximity to Tehran, Iran's capital city. The youth of Tehran enjoy the spectacular heights and amazing powdery snow of Shemshak. Even those who do not fancy skiing, can get together in the superb après-ski scene of the resort. They meet friends and other skiing enthusiasts in the huge variety of restaurants and cafés of Shemshak. The marvels of Shemshak attracts Iranians from all over the country. Shemshak Ski Resort is also very popular with the foreign skiers. Given the resort's high quality of snow and world-class runs, many pro skiers come to enjoy the fabulous heights of Alborz. The region presents a huge potential for all kinds of snow sports. Ice climbing is also very popular in the big walls of Alborz. There is even a school for ice climbing in the area called Meygun where professional instructors will take you to the heart of Alborz "to discover ice". Expansive snow fields in Alborz are ideal for cross-country skiing and snow biking. The information given above is more than enough to tempt any real snow enthusiast. You don't want to miss the wonders of Shemshak even if winter entertainment isn't your priority. You might be on a tour of Qazvin, Alamut or any other city around Alborz mountain ranges. Be adventurous then! Extend your trip a couple of days and be amazed at the mighty sight of Alborz mountain range.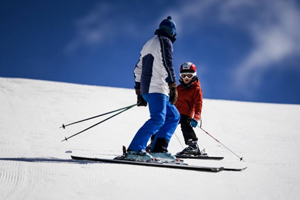 Shemshak Hotels and Hostels
Shemshak Tourist Hotel is the best-known of Shemshak accommodation. Shemshak is close to Dizin, and if you're willing to take Dizin's gondolas to Shemshak and back, you can also stay in Dizin's hotels such as Gajereh Hotel and the spectacular Dizin Hotel. But if you are planning to have a convenient winter vacation in Shemshak, we recommend the great Shemshak Hotel (also known as Shemshak Tourist Hotel) on Oshan Fasham road. Lodging in Shemshak Hotel has many perks. First, it is the issue of accessibility to the ski slopes. It is the closest quality accommodation to the ski resort. In addition to Shemshak, the hotel also allows easy access to the fabulous Darbansar Ski Resort. The other thing is quality of the rooms and facilities in Shemshak Hotel which is excellent considering the price you pay. The hotel has a nice restaurant and a cozy little coffeeshop that serves hot beverages in the freezing weather of the mountains. As well as this beautiful and comfy hotel, Shemshak also offers a wide array of guesthouses and private villas to the travelers. Shemshak hotels are fully-booked in the ski season, so be sure to book in advance.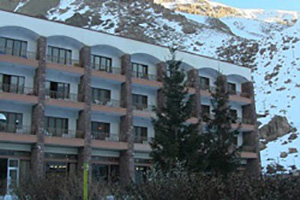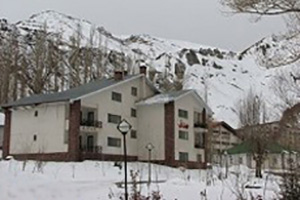 Shemshak Tours
We have eased the complicated process of booking for the foreign tourists. You just need to open the link Iran tours on our website at http://toursiniran.com and click on Iran Ski Tours. There, you will find Shemshak tours next to other amazing tours in our winter destinations of Iran Tour Packages. The whole process of booking shouldn't take more than a couple of minutes. We have prepared three fabulous Shemshak tour packages here. One-day, two-day and three-day Shemshak packages are available. They all include the cost of transportation and accommodation. The cost of your meal, entrance fees and renting ski gears aren't included. It goes without saying that our professional team of tour guides will help you deal with whatever you might need in the resort. Needless to say your accommodation for the night is the great Shemshak Hotel. There are great entertainment facilities such as cable cars in the vicinity of this beautiful three-star hotel. So, everything is settled! The only thing you need to do, is to make up your mind and choose which one of the packages you want to try. We can guaranty that you will have the time of your life irrespective of which tour you opt for.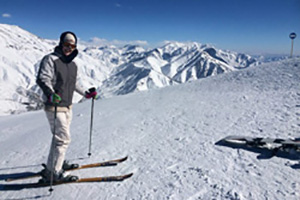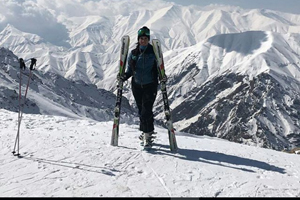 Shemshak Ski Tours
Iran ski tours are great on so many levels. First of all, they are the cheapest ski tours in the world! Take Shemshak ski tours for instance. The whole trip with the cost of entry to the resort and accommodation will be a trifle when translated to USD or Euros. These ski resorts boast thousands of regular international customers. They come to Iran every year during the ski season to enjoy the fabulous powder and marvelous ski runs. Each resort in Iran has its advantages and merits. We will take a look at three of the most popular ski resorts in Iran.
1. Dizin Ski Tours: Dizin Ski Resort is the largest and most well-equipped ski resort in Iran. Dizin is the beating heart of Alborz mountain resorts. The famous gondola ride of Dizin will take you 3600 meters above sea level to a place that is the definition of pure fun! Dizin is one of the rare places in the Middle East where you can enjoy the delights of snow for more than four months. Accommodation is also at its best in Dizin. Hotel Dizin is the number-one choice for most of the skiers for its superb service and comfy rooms.
2. Tochal Ski Tours: Tochal Ski Resort is one of the oldest ski resorts in Iran. It evokes sunny childhood memories for thousands of Iranians who got a vacation in Tochal as a prize after an intense school year. Our two-day tour of Tochal includes all costs save the meal and ski rental. We have also included a single-day version of Tochal tour to provide you with more options of winter vacation.
3. Shemshak Ski Tours: If you want to meet professional skiers in Iran, you just need to visit Shemshak! Any pro skier will go crazy at the sight of the steep slopes and the spectacular powder of Shemshak Ski Resort. There are three packages different according to their duration. Our one-day, two-day and three-day Shemshak tours will take you to the land of powdery snow in Iran!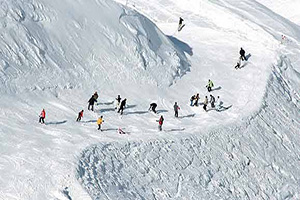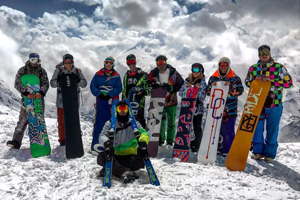 Shemshak Attractions
Iran's attractions present wonderful sights in the winter. Shemshak's tourist attractions go beyond mere snow entertainment. Mountaineers love the lofty heights of the region such as Kholeno, a wild peak in Alborz mountain ranges. The bounteous nature of Alborz will bedazzle you with its vast snow fields and frozen lakes. Darbandsar is another breathtaking resort nearby with its signature slopes and pristine nature. It is near the Shemshak-Dizin road and is a fully-equipped ski resort with ski rentals, restaurants and lots of lifts. Koloon Bastak, the top pick of hikers, is a short drive from Shemshak. Aside from the glory of its lofty peak (4156m), the rapturous sights surrounding the mount is specially favored by nature lovers. Shemshak's thriving tourism creates unique options for adventurous souls. Take Shemshak Ski Resort for instance. It is the paradise of pro skiers! Once they experience their first descend from the mogul runs of Shemshak, they are forever smitten! The trip to Shemshak is also very economical in comparison with the ridiculous costs of western ski tours. One thing you must consider however is the weather. Be sure to check the weather online before embarking on your journey because you don't want a killjoy storm ruining your vacation in Shemshak.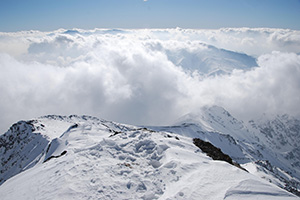 11/14/2017 8:22:12 AM