Kashan
Kashan is a city in Iran located about 240 km away from the capital. Kashan is one of the oldest cities in the country and many ancient relics have been found in the archaeological sites around the city. If you look for Kashan on Iran's map, you will find it between Tehran and Isfahan. The name of the city is almost synonymous with roses and their essence (golab) which is prepared during a special ceremony each year in May and early June. Another aspect of the city is its hand-woven carpets which have a world-wide reputation. The famous Persian rugs and carpets of Kashan are the best in Iran together with those of Tabriz, Isfahan and the city of Qom. Kashan has a traditional atmosphere but the people are as warm and humble as the hand-woven silk rugs. They are also used to the sight of tourists in their cities and could be a great help to the foreign visitors. If you have an issue of Kashan's tourist map, you will be amazed at the host of tourist attractions in the city. Kashan is only second to Yazd in its collection of spectacular centuries-old mansions that are the epitome of the art of old Iranian architecture. Unique structures known as windcatchers (badgir) are ubiquitous around the city functioning as a natural ventilator in the searing weather of the desert. Speaking of deserts, another fascinating aspect of Kashan emerges; the stunning desert of Maranjab. Iran's sweeping deserts are full of astonishing sights. The Great Salt Desert boasts some of the most-visited places in Iran. Maranjab, Mesr and Varzaneh each represent a mysterious feature of sand deserts; Varzaneh with its towering dunes and Maranjab with its old caravanserai and camel rides. Last but not the least, Kashan is near one of the gems of Iran's many rural areas. Abyaneh (known as "the red village") leaves an eternal mark on every eye that catches the utter sublimity of this mountain village in the midst of deserts. It is obvious that such a whopping potential for tourism industry necessitates the establishment of a wide range of accommodation. The great thing about staying in Kashan is that you can enjoy a homestay-like experience in one of the palatial old mansions of the city. Ok now that you have a general picture of Kashan and its fabulous attractions let's have a more detailed look at some of the tourist spots and hotels in the city of roses.
Best Hotels in Kashan
Those who are planning to travel to Kashan might not be sure where they want to stay in Iran's capital of roses. Similar to all major tourist magnets in Iran, Kashan is no short of hotels and guesthouses and finding quality accommodation is easy. Some of the best hotels in Kashan are in the form of old mansions with gorgeous Iranian architecture restored and refurnished to meet the needs of the visitors to the city who aim for an authentic homestay experience. Once in Kashan, you may relish the luxury of traditional Kashan hotels with their high arches, grand yards and fountain pools. If you prefer modern lodging facilities, you can enjoy the comfort of several modern hotels in the city. And if what you long for is economy accommodation, there is a plethora of quality hostels and guesthouses that offer their services for unbelievably low prices.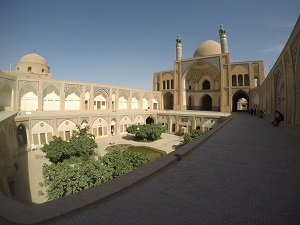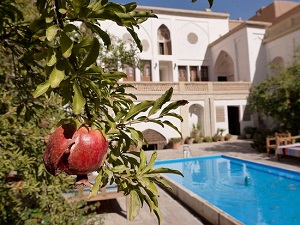 Cheap Hostels in Kashan
Not everyone can afford the exorbitant costs of fancy hotels. That is why most of the cities in Iran has a lot to offer in the category of cheap hostels and guesthouse. There is a long list of cheap Kashan hostels among which are some of Iran's finest traditional hostels. Kashan traditional hostels such as Green House Hostel, Sadeghi Hostel, Noghli Hostel, Ehsan Hostel and Doost Hostel are all beautifully embellished Iranian old houses with big yards and really affable staff who will happily cater to your every wish. As you can see, once in Kashan you will have numerous choices of accommodation. So, the only thing you need to do is to pack your bags, book a tour and head towards the ancient land of roses.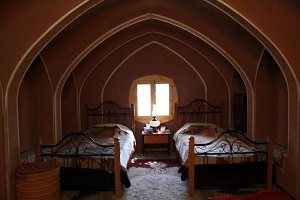 Kashan Tours
Among all Kashan tours, most people book Kashan's city sightseeing tours, there are many other great things to do in and around Kashan. Kashan's desert tours are particularly popular as Kashan is near Maranjab Desert which is included in most of Iran desert tours. Iran tour operators include different packages such as desert racing and desert trekking in Kashan desert tours. The cost of all these great services is really negligible compared to the dear cost of desert tours around the globe.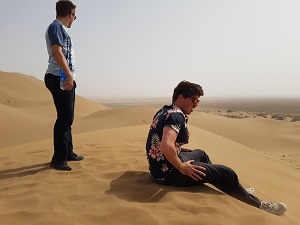 Maranjab Desert Tour
As highlighted above, Maranjab desert tours are among the most popular Iran tour packages. Maranjab Desert is located in Iran's largest desert, Dasht-e Kavir, less than 65 km away from Kashan. Maranjab has a typical desert weather which is hot and dry during daytime but cold during the night. There is a good deal of spots to visit in Maranjab which can be found on the deserts' map. These include Maranjab Salt Lake, one of the many salt fields in Iran's massive desert area and Maranjab Caravanserai, an old lodging spot in the heart of the desert where you may have a once in a lifetime experience of a night stay in a sand desert with its starry sky and the sound of sheer silence.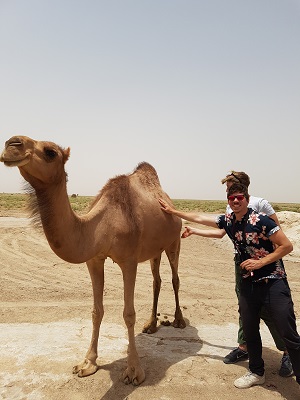 Abyaneh Red Village Tour
As one of the most ancient civilizations on the face of the earth, Iran boasts unique urban and rural areas. Enough has been said and written about Iran's ancient cities. However, the spectacular ancient Iranian villages are less known specially to the ever-expanding world of global tourism. Kandovan, Masuleh, Garmeh and Abyaneh Red Village are just a few names in the unending checklist of Iranian villages most of which are completely unexplored. Abyaneh is one such extraordinary village about 85 km away from Kashan. Abyaneh is significant for Iranians on many different levels such as history, culture and language. Each year countless papers are published in domestic and international magazines about Abyaneh village, its archaeological, historical and cultural significance. Abyaneh is one of the last places in Iran where you can hear people speak in a language long forgotten; Old Persian. But that is just one side of the glorious red village. The local population have preserved every cultural trait of their ancestors including their traditional garments as well as their language. Abyaneh Red Village tours are daily packages starting from Kashan. We visit the amazing village and take a long walk in its lovely red alleys graced with ancient abodes.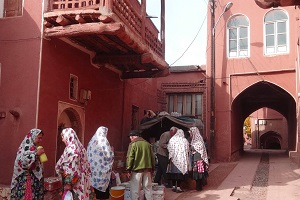 Kashan Sightseeing Tours
Iran city sightseeing tours are a big part of our annual tour packages. They cover all the major cities in Iran including Kashan. Our Kashan sightseeing tours are very popular specially in days which are known as "Rosewater Season" in Kashan (between May and June). That is when tons of Mohammadi roses are picked in a special and festive ceremony attended by near a million people and rosewater is extracted through a peculiar process that has been practiced in Kashan for centuries. Kashan's sightseeing packages are in the form of Kashan one-day tours in which we take you to the very best of Kashan attractions. In what comes below we will take a closer look at some of the major tourist spots in Kashan.
Kashan Attractions
Considering Kashan's relatively small area and low population, the number of tourist attractions in the city is absolutely staggering. Every part of Iran is blessed with a number of natural historical attractions but there are a few places like Kashan where you can find many great instances of them both. Kashan's lucrative tourism industry centers around Maranjab desert tours and Kashan city sightseeing tours. Kashan's supreme examples of old Iranian architecture are among the city's many points of interest. Therefore, there are lots of ways to answer the question: "What is there to see in Kashan?" But before we discuss the amazing Kashan tourist attractions, let's talk about a magical land of golden sands where you will be one with a myriad of stars above and will come face to face with the universe.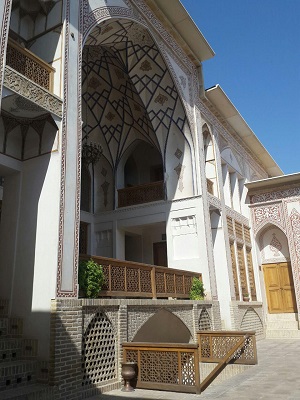 Maranjab Desert
One of the many great things about Kashan is that it is close to not one but two fabulous deserts in Iran namely Maranjab and Mesr. Maranjab desert is the definition of a touristic desert with expansive dunes, camel rides, sand racing and a lot more. If you are lucky and moon shows its ashen face in your nocturnal walk in the desert, you will find yourself on an alien planet. The only thing that still connects you to the sublunary world is air and gravity. If you climb a dune in Maranjab the view is simply breathtaking. There is nothing but smooth waves of sand and the only inhabitants are ghosts and the creatures of the night lurking under the sands looking for prey. However, if the night is pitch dark, you would better stay within, since you will be easily lost in the cold and total darkness. The caravans that used to traverse deserts knew well about the risk of travelling in desert nights. That is why on their way to the Silk Road, they built numerous buildings known as caravanserais where they could shed their fatigue and prepare for resuming the journey next day. Maranjab Caravanserai is a historical monument built during the Safavid era in the searing Dasht-e Kavir to provide a roof over the heads of weary travelers. Some of our packages to Maranjab include a night stay in Maranjab's beautiful caravanserai. Maranjab desert might not have the high dunes of Varzaneh and other deserts in Iran but its boundless dunes are finely honed by the golden sands. As the most visited desert in Iran, Maranjab has something to offer to every searching soul.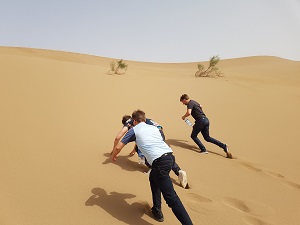 Fin Garden
Amir Kabir, the chief minister of Iran during the reign of Naser al-Din Shah Qajar, was the sole bulwark against the ruthless onslaught of colonial powers and the corrosive malfeasance of Iranian politicians. But the evil forces proved themselves impervious to the reformist efforts of the righteous minister and ultimately conspired against him. The assassination of Amir Kabir occurred in a public bath in Fin Garden in Kashan, one of Iran's major royal recreation spots. But that is not the only reason behind the fame of Kashan's Fin Garden (known among the locals as Bagh-e Fin garden). The architecture of the buildings in the garden including the infamous Fin Bath is remarkable and the beauty of the garden is sensational.
Tepe Sialk
Tepe Sialk is an ancient ziggurat in ruins whose site is an important archeological spot. Built about three millennia BC, Tepe Sialk is a clear example of the golden age of civilization in ancient Persia.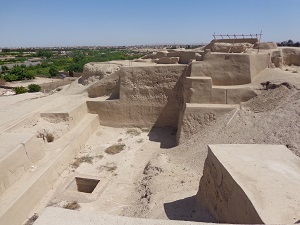 Borujerdis House
The peak of traditional Iranian residential architecture can be observed in the glorious structure of Borujerdis House in Kashan. The finest instances of Persian decorative arts are applied to embellish the halls, yards, palatial domes and windcatchers of Borujerdi mansion, the historical house par excellence. In Borujerdi house, architecture has become the language through which the owner has uttered his love to his beloved wife.
Tabatabaei House
Ustad Ali Maryam, the chief designer and architect of Borujerdis House showed his unrivalled artistry in the body of another majestic edifice. Tabatabaei House, is the other masterpiece of the acclaimed architect built in the 19th century. Tabatabaei House is the museum of Iranian traditional architecture for it showcases all the elements essential to its imperishable fame: four astounding interconnected courtyards surrounded by celestial domes with dainty geometric tilework and mesmerizing colors, rooms decorated with stunning plaster work and frescoes illustrating the high walls.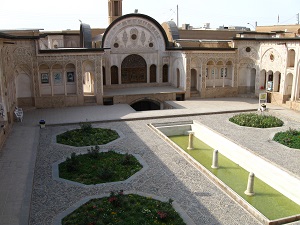 Agha Bozorg Mosque
Religious monuments are the pillars of Iranian architecture specially after the Muslim invasion. Kashan boasts some of the finest example of Islamic architecture and Agha Bozorg Mosque is a unique instance of this marvelous craft.
Sultan Amir Ahmad Bathhouse
Also known as Qasemi bathhouse, Sultan Amir Ahmad Bathhouse is a 500-year-old public bath in Kashan. Mesmerizing decorative tilework and bold architectural designs are the defining aspects of Sultan Amir Ahmad Bathhouse.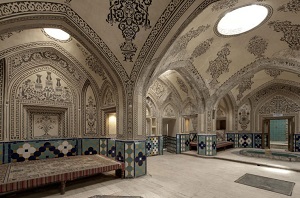 Abbasi House
We have already introduced a couple of traditional houses in Kashan like Tabatabaei and Broujerdi houses. Abbasi House is another prime example of Iranian traditional artistry but it is older than the other two. Abbasi House was built in the 18th century.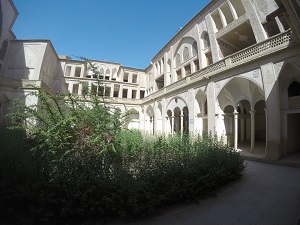 Aminoddole Caravanserai
Kashan bazaar is a wondrous place; it seems like the location for a tale from One Thousand and One Nights. Aminoddole Caravanserai is a breath-taking structure in Kashan bazaar. Among its many functions, Aminoddole Caravanserai has been used in religious ceremonies and in the past, it served as an important stop for the merchants traveling on the famous Silk Road.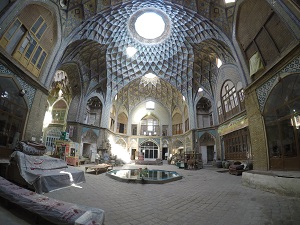 Kashan Bazaar
Kashan Bazaar might lack the huge crowds of Tehran Bazaar and the sublimity of Tabriz Grand Bazaar, but it is a class of its own when it comes to unique architecture and decorative art employed to form its structure. Bazaar of Kashan has been the main center of commerce in Kashan for centuries.
Ameri House
Notwithstanding the fact that it was built in the 18th century during Zand era in Kashan, Ameri House was heavily damaged by a powerful earthquake that shook the foundations of the city and was later renovated during the reign of Qajar monarchs in the 19th century. Aside from being a fabulous work of art, Ameri House is one of the few old mansions in Kashan which functions today as a hotel and it is called Saraye Ameriha Hotel.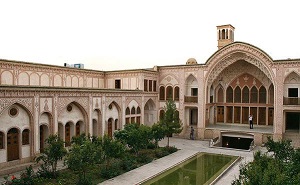 Kashan Rose Water
Anyone who has attended a religious ceremony in Iran is familiar with the mysterious scent of rosewater sprinkled on the huge congregations of mourners. Rosewater (called "Golab" in Persian) is also used copiously in Iranian cuisine specially as one of the main ingredients of Iranian traditional drinks and desserts. Kashan produces the premium Iranian rosewater. Every drop of Golab e Kashan is an elixir extracted from the delicate petals of Mohammadi roses. But the benefits of the rosewater to the economy of Kashan isn't limited to the huge rosewater industry. Kashan welcomes thousands of eager visitors who come to take part in the festival of rose and rose water. Kashan's rose festival ( Jashn-e Golab Giri) takes place all over Kashan including in the beautiful town of Qamsar whose rosewater is world-famous.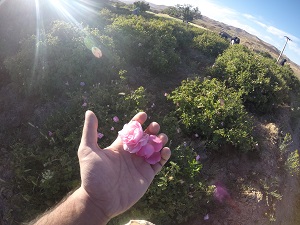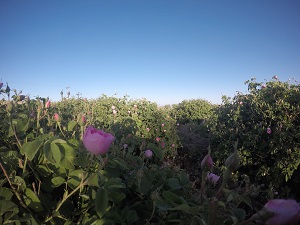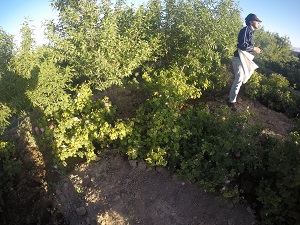 Kashan Rug
There is an old saying among Iranians that says a person who looks young for his or her age is like a Kashan rug. As strange as it seems, Kashan wool rugs gain quality and luster with the time. The reason lies in the use of natural wool from live animals in the making of the carpets. As stated above, Kashan hand-woven carpets and rugs are some of the best in Iran. Similar to all signature Iranian carpets like those of Tabriz and Isfahan, Kashan rugs have unique designs mostly inspired by the local gardens and architecture of old monuments. Kashan rugs have a history as long as their city of origin. Kashan rugs have an estimated value of 500 up to 10000 USD based on the amount of real silk used in their manufacture and the number of knots per square inch (more knots higher the price). Kashan silk rugs claim the highest prices due to their superb material and artistic rendering of warps and wefts. You will find both old and new Kashan rugs in the bazaar's handwoven rug gallery.
3/21/2018 3:14:45 PM