Garmeh
Garmeh village in Iran is located at the edge of the country's central deserts. This Iran desert jewel is in Khur and Biabanak region, around 400 km to east of Isfahan city. Garmeh has a long rich history and the ancient Sassanid Fort in the middle of the village bears witness to this truth. At this moment that this introduction is being written_June 2016, it has been more than a decade that this amazing desert oasis has become a popular tourist attraction in Iran visited by thousands of foreign tourists every year. And there is no doubt that Garmeh owes all its fame and prospering economy to a man called Maziar Aledavood (The video below). He gave a new life to this village single handedly by turning his ancestors' home into a traditional hostel in Garmeh known as Ateshooni.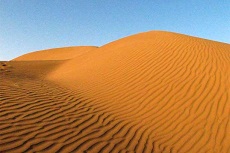 Ateshooni in Garmeh Isfahan
Ateshooni in Garmeh is in fact an ecolodge in Isfahan province. It owes most of its popularity to the natural attractions found in and around the village. Despite the hot but beautiful deserts surrounding Garmeh, there are hundreds of green date palms all around the village that make the village look like a lost big green gem in the desert. The water used in the village for drinking and watering the trees comes from a natural spring at an elephant-looking mountain to the south of the oasis. Staying at Ateshooni or other traditional guesthouses in Garmeh is most pleasant in fall, winter, and early spring. That's when the migratory birds like ducks make a short stop at the village's pond every year and enjoy this beautiful sanctuary.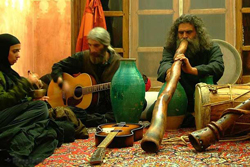 Maziar Aledavood a Pioneer
Althoug Maziar Aledavood is considered a pioneer in Iran's desert tourism, many locals from his or other villages and even business people from cities in Iran started to follow his footsteps. Right now there are more than a dozen popular Iran desert accommodation options among which Barandaz Lodge near Mesr Desert in Iran is quite famous. All in all, staying at these places is like staying at a homestay with a very warm and friendly family.
Book a Bed/Room at a Hostel in Garmeh
Book an Iran Garmeh Village Tour
8/22/2017 7:54:19 PM
---
0 Comment(s)
Average Rating:
Comments and Reviews