Dizin
Dizin is the name of a mountainous region at the heart of Alborz Mountain Rang in Iran. This touristic region is very popular with both local and foreign tourists because the greatest and most professional ski resort in the Middle East i.e. Dizin Ski Resort is located in this region. The region is reached most safely through Chalous road, but it is also possible to reach Dizin through a shorter road to the northeast of Tehran. This road is not recommendable because it's too mountainous and there is always the possibility of getting stuck on the road due to an avalanche. And if you think Dizin Ski Resort is the only thing that attracts the tourists there, I beg to differ.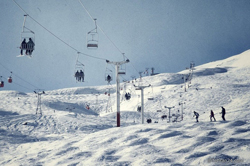 Dizin's Surroundings
Dizin attracts a lot of tourists not only because of its awesome ski resort, but also because of its amazing surroundings. The road to Dizin itself is one of the most beautiful roads in Iran and on weekends and holidays, many locals drive through the road to enjoy the scenery or to have a picnic. Aside from the road, there are rivers in view in many parts of the way to Dizin and the river is most beautiful where the road to Dizin diverges from Chalous road. Still, there are even more factors that would make a tourist, especially a Tehrani resident to take a trip to Dizin.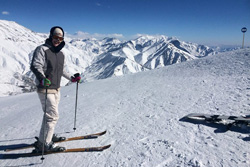 Dizin and Tehrani People
Every year late in fall, and early in winter, and due to a meteorological phenomenon called "temperatures inversion", Tehran gets really polluted. And pollution is not the only nuisance in this megacity of some 15 million people; Tehran is as noisy as hell with most of the noise coming from the never-moving traffic jams (Don't get scared though; it's not as half noisy as it is in India). Still, when a Tehrani individual visits Dizin, he's struck with the most soothing difference that he/she wishes to stay in Dizin for good. There is even more about Dizin's surroundings; One gigantic element in Dizin's scenery.
The View of Damavand from Dizin
In my opinion, the most interesting thing that Dizin's surroundings offers is the clear view that you can get of Mount Damavand when you reach the top of the ski resort. This beautiful 5,610 m high mountain is the highest point in the Middle East and so is also called the Roof of the Middle East. Mount Damavand, this all-year-round white-capped giant of a dormant volcano is more than just a mountain to Iranians; it stands for Iranian people's resistance. It stands for their pride and their rise against injustice anywhere.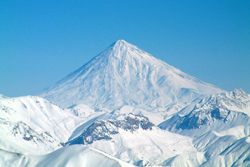 Hotels in Dizin
There are only two proper hotels in Dizin; one is called Dizin Hotel that is in fact an accommodation complex including two large buildings and a dozen of chalets, and the other one is called Gajereh Hotel in Dizin. While there is a distance of around 3 km between Gajereh Hotel and the resort, Dizin Hotel is located exactly right next to it and gives you an unrivalled convenient location.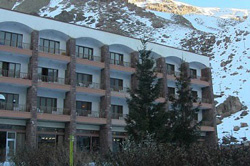 Book a Hotel in Dizin

8/22/2017 7:55:02 PM
---
0 Comment(s)
Average Rating:
Comments and Reviews